Are you looking for the best red dot for AR pistol shooting? If yes, then you're at the right place.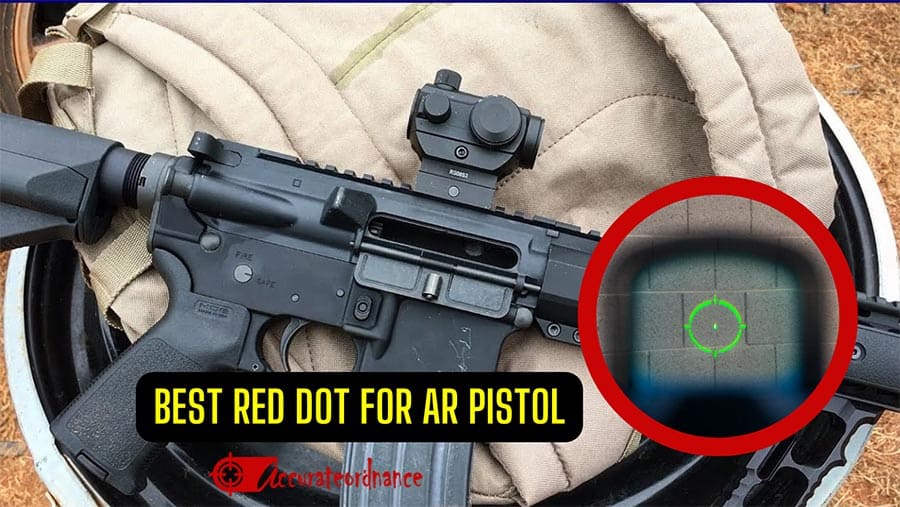 Many shooters are unfamiliar with the term "AR PISTOL," if you're one of them, this article will give you all the information you need to know about this type of weapon. As a professional shooter, I have used different lengths of AR pistols over the years, including those measuring 5 inches, 7.5 inches, and 10-11.5 inches. 
Like every other firearm, an AR pistol needs an optic to make shooting easier and more accurate. 
Red dots are widely accessible optical devices, and the possibilities or options available are nearly limitless. Finding a good optic for your AR pistol might be very challenging because there are so many options out there to choose from. However, you don't need to get yourself worked up by trying to find out which is best for your weapon among the myriad of optics available.
In this article, we will help you narrow down your search by presenting a reliable review of some of the best AR pistol optics in the market. These optics have proven themselves both in combat and during a hunt, so you can be sure they'll meet your shooting needs.
Red Dot Sights for AR Pistol: What to Look for
Red dot sights are simple gun sights; simply aim and shoot. You can strike any target with a red dot as long as you can see the dot. However, there are other variables and characteristics to consider to help you make your choice of red dot for AR pistols.
You need to ask yourself questions like; What are you going to do with the red dot sight? Is a bigger dot required to increase target acquisition and speed? Are you utilizing the same red dot for close-quarters and long-range shooting? Will you need the toughness and usability necessary for duty use and patrol?
Think about these red dot criteria as you try to improve the usefulness of your weapon to meet your shooting need.
Price
The red dot optics market has a wide range of pricing points. Red dots are presently one of the cheapest optics for any firearm. Most red dot sights have their prices under $100, and they are adequate for plinking and target shooting, but at this price range, they might lack the capability to last or be used in professional situations.
Red dot sights that fall in the mid-range price points are frequently utilized for a variety of purposes, including hunting, range, and even certain law enforcement applications. These Red dots come with accurate, high-quality, and battery-saving technologies. Most purchasers will be satisfied with their purchase at this price point.
High-end optics are frequently made for professional usage. They come with all the bells and whistles in the shooting industry while remaining easy to operate. In this kind of red dots, the whole design must meet the necessary standards, from build quality to dot accuracy and dependability. 
If you're buying a red dot sight for AR Pistol and you want to use it for professional shooting, it is better to go for a high-end optics that would not fail when you need them the most.
Open Red Dot VS Closed Red Dot System
Red dot sights are a catch-all word for a variety of gun sights, including holographic sights, prism sights, and reflex sights. Reflex sights usually feature an open system red dot that allows you to gaze through a small rectangular window, but they also exist in a closed and tube-like design.
These two types of reflex sights actually do the same job: they help you get the red dot on your target at 1x magnification so you can shoot accurately. However, the battery life, weight, and size of these two models will differ.
Prism sights resemble tube-style optics and employ a prism to give an upright and correct image. They're frequently perfect for individuals who want a little magnification and longer shots. 
A holographic sight is also an excellent red dot that gives parallax-free images. 
If you want to know more about red dot systems, check this comparison between prism scope vs red dot.
You can also read more about holographic sight vs red dot.
Dot Size
When choosing a red dot sight for your AR pistol, you need to consider the size of the dot you want to use. Would a 2, 4, 5, or 12 MOA dot be the best choice for you? Your AR pistol is capable of firing bullets like your regular handgun, so when choosing the size of the dot, you have to think of the distance your target will be positioned most of the time. 
You also have to consider the size of the target because using a very big red dot size for a smaller target would be a bad idea (and vice versa). Smaller red dots are typically used for range shooting when you don't want the dot to cover your long-distance target.
In close-quarters situations, you'll need the dot on your target instantly, so a bigger dot size is preferred. Your attention must be pulled directly to the dot, and it must land on your target quickly and correctly, even around tight curves or between 25-50 yards.
Batteries
The battery life of a red dot sight varies depending on the manufacturer. Red dot sights that consume more power may need a larger battery, whilst tiny red dots may not need that much. The tiny CR2032 batteries are the most commonly used batteries for powering red dots nowadays.
When you adjust dot illumination to the manufacturer's recommended setting, you should expect a battery life of 30,000-50,000 hours. Some functions, such as maximum brightness and auto-shutdown timings, might use more battery, while motion-activated ones can assist in preserving it.
Compatibility 
Because of their size, design, and other limitations, not all red dots are compatible with other equipment. If you want to use your red dot sight with an optical magnifier or night vision device, then you have to be sure that the receiver of your weapon can accommodate them. 
What is the Difference Between an AR Pistol and an AR Rifle?
In any evaluation of differences between two weapons, a sensible starting point is highlighting the similarities amongst the platform variants. 
An AR pistol is an AR-pattern handgun with a stabilizing handgun brace connected to the receiver buffer/extension tube instead of the typical butt stock. This weapon comes with a barrel shorter than 16 inches, and the overall length is less than 26 inches.
This kind of brace used in AR pistols is what makes the AR-pattern handgun not to be classified as a short-barreled rifle. Both firearms are identical. The lower and upper receivers, bolt carrier group, operation technique, and controls remain unchanged. Pistol AR has a shorter barrel length.
Short Gun With Short Barrel
The AR-15 had a 20 inches barrel when it initially came into production. This was also the normal barrel length for M16 rifles. AR-15 design carbines typically range in length from 14.5″ to 16″, which is a legal, non-NFA length in the United States. AR-15 pistols, on the other hand, often come with a barrel length ranging from 7″ to 11″.
The AR-15 pistol's total length is reduced by the small barrel, which contributes to its higher maneuverability. An AR-pistol is easier to carry, store, and transfer because it is so small; it takes up less space in a range bag.
Also read:
best rifle scope and red dot combo for ar-15 
Terminal Efficiency
We should all expect some differences between an AR pistol and AR rifle when it comes to terminal performance. Does an AR pistol suffer in performance as a result of its shorter barrel length when compared to an AR rifle? 
First and foremost, the performance of the AR pistol is determined by the caliber used. Most AR-pistols and similar firearms are chambered in 45 ACP or 9mm Luger. These cartridges were intended to be shot in submachine guns and handguns; therefore, AR-pistols with shorter barrels are ideal for this kind of cartridge.
The short barrel of an AR pistol that is chambered in a cartridge for rifles is a significant disadvantage in comparison to an AR rifle with a rifle cartridge. Pistol cartridges employ propellants that burn quickly to guarantee that the charge achieves peak pressure quickly. This spike helps the powder to push the bullet to a usable velocity in the short barrel.
Rifle cartridges, on the other hand, often employ slow-burning propellants, and they take advantage of the long barrel during a release.
When the barrel length of any 5.56mm rifle is reduced from 20 inches to 7.5 inches, you lose around 1,000 fps. This has a big impact on how the bullet behaves when it hits a target.
The terminal efficacy of the 5.56mm NATO cartridge, especially with M193 bullets, is largely reliant on entrance velocity. 
Although not all rifle cartridges have the terminal peculiarities of the 5.56mm cartridge, all rifle calibers suffer a performance decrease when shot through a short barrel. Some rifle cartridges (intermediate) often employ bullets that weigh the same as or less than the weight of pistol rounds.
Thankfully, cartridges like the .300 Blackout produce more consistent and stunning performance in AR handguns or short-barreled rifles.
Read the best rifle scope for 300 blackout
Accuracy
A shorter barrel does not always imply poorer accuracy. Short barrels are often more rigid, which contributes to greater uniformity from one shot to another. Instead, the problem is with muzzle velocity; since the bullet cannot attain the same velocity as an AR pistol, the accuracy range drops. 
best tactical scope for ar-10 308 SHTF 
Sight Radius 
Even though iron sights have been overtaken by optics as the conventional sight, iron sights are still valuable for their simplicity and ruggedity. The radius and hence precision of a handgun is smaller than a rifle's sight radius.
Recoil
In any debate about AR pistols and AR rifles, you must talk about recoil. AR rifles have a heavier recoil because of the high muzzle velocity generated by the long barrel. AR pistols, on the other hand, are lighter.
An AR pistol has a higher weight than a normal handgun. Since the AR pistol shoots almost the same caliber as the handgun, the AR pistol will be able to take up most of the recoil, making it have a lesser recoil impact than lighter handguns shooting the same caliber. 
Best Red Dot For AR Pistol Detail Reviews
1. Aimpoint PRO Patrol Reflex Sight 2 MOA Dot
The first red dot sight in our list of best red dot sight for AR pistol is this Aimpoint PRO model. If there is any red dot reflex sight that is often used by law enforcement, it is this Aimpoint sight. What's the reason? It is because this red dot reflex sight is adaptable, dependable, and precise. But that is not all there is…
This Aimpoint sight gives an excellent image clarity with a faint blue tinge. The sight has 10 brightness levels.
Levels 1 to 4 are suitable for night vision, whereas levels 5 to 10 are best for daytime use.
The highest level of this optic (level 10) is extremely bright, generating a halo inside the optic's body. However, you're less likely to shoot in such an extremely bright situation, so you do not need to utilize the highest brightness level.
Check this article (thermal scope vs night vision) for more information on how night vision devices work.
The sight has a very long-lasting battery life that can be used for about three years.
This Aimpoint red dot sight may be mounted anywhere on the rail and still provide a clean sight image. It has an extremely accommodating eye box.
This device is tough, easy to unmount/remount, and incredibly simple to zero in.
It is highly waterproof, shockproof, and fog proof and this is possible because of the O-ring seal and argon purging. This Aimpoint PRO will not break, and it will also not fog up or freeze.
It weighs about 7.8 ounces which is significantly heavier than some sights on the list. But, once again, a 7-ounce sight is not so heavy.
Elevation and Windage adjustments are simple, and you don't need any tools. The on/off switch is big and has a firm detent.
Although not intended for long-range shoots, the Aimpoint sight is capable of firing shots to about 300 yards. Whether you're wearing protective hats or not, it is simple to fire with both eyes open.
This enables speedier recoil recovery and quick follow-up shots. It shoots just like a scout scope.
You're also covered by Aimpoint's two-year warranty, although I would have preferred a lifetime warranty.
2. Sig Sauer Romeo 1x20mm 2 MOA Dot 
This Sig Sauer red dot is another great red dot for an AR pistol. It is almost as efficient as some of the more costly red dots, and it comes at a low cost.
The glass of this sight is crystal clear thanks to the anti-reflective coating. There is no distortion whatsoever when you look through this red dot scope.
It has a total of 10 brightness settings which include 8 daylight and 2 night-vision settings, allowing you to utilize the dot both night and day.
Sig Sauer has an incredible 50,000 hours of battery life! This is because of its Motion Activated Illumination. That is, the sight will turn off and on automatically in response to movement in the surrounding. This will make the battery last longer and not drain faster.
The glass in this optic is protected by detachable caps. This Sig sight has unlimited eye relief.
The Sig sight is IPX-7 certified and built with anodized aluminum. It is entirely waterproof (to a depth of one meter), shockproof, and fog proof.
The sight is also quite light, weighing about 5.1oz. Since your AR pistol itself is light, it would not need a sight that is heavy. This red dot scope can be mounted on any Picatinny mount. The juicy part about this sight is its versatility. You can co-witness this sight on a 17HMR rifle.
Related article: best scope for 17 HMR rifle
The turret on this sight is firmly capped and positioned on the side and top of the optic. The caps can be flipped over and unscrewed when you want to adjust the turret. The turret has a total of 40 MOA, and it is adjusted in 0.5 MOA increments. It is a straightforward design and simple to modify.
The sight features a magnification of 1X and extremely minimal parallax. You also have a good field of vision thanks to its 20mm lens diameter. 
The Sig Sauer optic comes with a lifetime warranty, so you can be assured that they will fix the sight if you encounter any issues.
3. Trijicon RMR Type II Adjustable LED Red Dot Sight
The next AR pistol optic on our list is Trijicon RMR. It is one of the greatest AR Pistol sights. Although it is somewhat expensive, the question now is, does it worth the high price? Continue reading to learn more…
This RMR sight has very high-quality glass. It also comes with multi-coated lenses that allow enough light while protecting your eyes from glare from the sun. I have never had issues with glass; however, the clarity of the glass is just average. 
You may get a superior glass from other companies, but the reticle of this sight more than makes up for it. In that regard, the dot is available in three distinct MOA sizes:
If you want fast target acquisition, the biggest dot size (6.5 MOA) is your best bet. It's also perfect for shooters that have impaired vision or astigmatism and require bigger dots to focus.
This Trijicon sight has eight different brightness levels. It is simple to choose between manual and automatic adjustment settings.
The automatic-adjustment function tunes the lights to the lighting conditions of the environment, which is a major advantage for shooters who have to move into and out of very bright or dark rooms.
One disadvantage of this RMR sight is that I've observed a slight blurring effect at higher brightness settings. 
The battery of the RMR sight is excellent (about 3 years). If you're concerned about a disruption in the brightness level (owing to jostling), hold down the minus (-)  and plus (+) buttons on either side for about 3 seconds. This prevents unintentional setting changes.
The sight offers an unlimited eye relief. That is, you may focus your gaze on the object from any angle or distance. You can keep your two eyes open when staring through this sight. It has a forgiving eye box and a wide field of vision.
The machined aluminum housing can withstand being thrown from a moving vehicle or submerged in freezing cold water. This RMR scope has a weight of 1.2 oz (battery inclusive). That is INCREDIBLY LIGHT!
It may also be attached to numerous handgun types. 
Trijicon does not provide a mounting plate, which is disappointing given the sight's price tag.
You can tweak the turrets with a little coin or your finger. The modifications are made at a rate of one MOA per click. I have never had problems with the dials. The sight has a satisfying, audible click and will not move around mistakenly when holstered or handled a little roughly.
They can take a battering just like most shotgun scopes.
The sight remains at 1x, which means it does not magnify or enhance your view to sight far targets. If you want an optic that can be adjusted to any lighting conditions and is accurate and quick at close ranges, then this Trijicon RMR is a good choice.
If you're looking for a sight with a little magnification, you can check the Best 1-6x Scope
4. Bushnell TRS 25 Red Dot 
Several low-cost red dot optics are available, but this Bushnell Trophy stands out. This red dot sight is a wonderful, dependable option for a shotgun, rifle, or handgun. Furthermore, it is pocket-friendly!
The reticle of the sight is a basic but well-defined 3 MOA dot. This Bushnell optics has 11 brightness levels and performs well in direct sunlight, unlike other sights that give off halos in brighter conditions. The brightness may be easily changed using a big dial. The dial is a little stiff; therefore, it does not move when shooting.
The reticle is visible through multi-coated glasses. This sight provides infinite eye relief. It also comes with an extremely wide field of vision, and you can have both eyes open when shooting.
The sight weighs about 4 oz. and measures a little about 2.5 inches in length.
This Bushnell optics is O-ring-sealed and nitrogen-purged. This means that it is both waterproof and fog proof! It can also withstand shock from the recoil of your firearm and can easily hold zero.
It performs as well as the greatest muzzleloader sights I've tried, and they take a lot of battering without breaking.
Rubber lens covers are included in this Bushnell Trophy sight. It also readily installs on weaver and Picatinny rails.
A CR2032 battery powers the reticle, and it can last for about 3,000 hours! To crown it all, Bushnell provides a 1-year limited guarantee.
The windage and elevation turrets change by 1 MOA every click and feature a 70 MOA adjustment range.
The scope has a 1X magnification and 25mm objective lens diameter. It also has no parallax. This provides the TRS-25 with a good field of vision and enables speedy target acquisition.
Check my article on the top 30-06 scopes.
5. Vortex Optics SPARC AR 
The Vortex SPARC AR features all of Vortex's advantages, including reliability, precision, and clarity. This AR2 model replaces the highly rated and popular SPARC AR1, and it even comes with better features than the previous model.
If, after using your optics, you forget to turn it off, it will go off itself after 12 hours. Although this is extremely beneficial for people who do not frequently use their ARs, it may be inconvenient for some. The inability to turn auto-off is a negative, but with a 50,000 hours battery life compared to AR1, it is a run to optics. 
This AR Vortex optic has a 1x magnification, and it is a parallax-free device with 2 MOA dots that are great for close-range shooting yet tiny enough for long-range shooting. It features ten different brightness levels. The two lowest levels are suitable for night vision.
It has a multi-height mounting possibility, and it is highly adaptable. It includes an in-built mount that is configured for lower 1/3 co-witness. Install as it comes, and you're ready to go. 
The SPARC AR2  sight is fog proof, shockproof, and waterproof. We've all heard about how unbreakable a Vortex optic can be; this one is no exception. 
6. Trijicon MRO 1X25 Mini Red Dot
This is the second Trijicon optics we would review on this list because Trijicon is one of the leading brands in red dot optic manufacture. This Trijicon MRO (Miniature Rifle Optic) is compact, but it comes packed. Don't dismiss the minor details.
The Trijicon MRO is a small optic in size, but for its price, it's a high-quality optic. The MRO is composed of forged aluminum rather than polymer plastic. It is also properly sealed, making it waterproof. Despite its sturdy and tough construction, it weighs just 5.1 oz (battery and mount inclusive). 
This 2 MOA red dot is sharp and brilliant, and the brightness can be changed with the control dial. The MRO optics comes with a total of 8 brightness levels. 2 of the brightness levels are night vision compatible, 5 work with daylight, and the last one is an extra setting.
The sight is powered by one CR2032 battery, and it can last for about 5 years. We can surely say that the tiny MRO sight has a lot of stamina. What were we saying again? It's little, but it packs a punch!
7. Holosun HS510c 
The Holosun optics is another great AR pistol red dot. It is an excellent open-style reflex sight that has a massive viewing area. I like the large viewing area since it doesn't make you feel like you're staring through a little tube, unlike other red dots.
The lenses are very clear and have no blue or green tinge. The reticle is quite clear, and Holosun adds a feature known as the Multiple Reticle System.
Personally, I like the Circle Dot since it is quick to use at close range while still having that 2 MOA dot in the middle for precision work.
However, I believe it's interesting that you can switch between the three reticles since it allows you to adapt the optics to your tastes.
This sight boasts a battery life of 50,000 hours (one CR2032). It has 10 daytime brightness levels and 2-night vision compatible levels aside from the excellent reticle selections.
This optic features a solar panel, so you won't even need to worry about the battery as long as there is sunshine.
Holosun also features a function called "Shake Awake," which makes the sight to automatically switch off when you're not using it and power on whenever it detects motion.
The Holosun optics is also a pretty tough sight.  It is waterproof up to about 1 meter when immersed in water, and it can withstand damp situations.
Finally, this sight comes with a fast detach mount. It's fairly high-quality, and you can co-witness with a backup iron sight on your weapon.
8. Burris Fast Fire III
If you're looking for good AR pistol optics with a higher-quality build, the Burris FastFire should come to mind. The optics are lightweight and field-tested.
The sight includes an extra base and protection systems created by Burris that are on the Picatinny mount, and they can be ordered without the mount, so you can put any mount of your choice.
This sight has both 3 MOA and 8 MOA dots.
Windage and elevation settings have been improved. The power button still has 3 brightness options. Target acquisition is facilitated by an automated brightness setting.
This Burris FastFire has a magnification of 1X. The FOV and exit pupil are both infinite. The total windage adjustment is 90 MOA. In terms of adjustability down range, this offers the sight a fairly broad view choice.
The battery is easily accessible on top of the device for replacement. It is powered by a single CR 1632 Lithium battery.
9. Vortex Optics Venom
Vortex Optics is known for its quality, and this Venom red dot is no exception. It is made with machined aircraft-grade aluminum and was designed particularly to endure recoil from higher caliber pistols and shotguns. It would sit comfortably on an AR pistol without giving the shooter any issues.
The Vortex Venom is quite affordable while providing auto-brightness and highly excellent image quality. It is one of the greatest reflex sights available and can be used on virtually any handgun with a mounting mechanism. It looks fantastic, feels well, and actually helps you shoot well.
10. Primary Arms MD-ADS 
We cannot talk about red dots without mentioning the Primary Arms brand. This scope brand is one of the greatest mid-range priced scope makers, and they truly hit the nail on the head with this one. 
When you handle this sight, you'll notice that it feels cheap to touch, don't let that deter you. Primary Arms can produce a sharp dot with quality glass at a low price. This optics does not have all the bells and whistles found in other high-end sights. If you cannot afford a high-end brand, this one will provide you with virtually the same basic functionality at a low price.
The battery life on this gadget is astounding; it is rated to last for 50,000 hours.
In addition, the build quality is superb, with hard-coated anodized aviation aluminum that is waterproof and shock-resistant.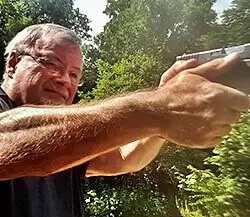 Mike Hardesty is a published freelance gun writer. He also possesses specialized expertise in rifle scopes With dozens of articles and reviews published in Pew Pew Tactical, Snipercountry.com, and TTAG (The Truth About Guns), Mike is considered a firearms expert. His special area of expertise is handguns.
Mike is a long-time shooter. He has been punching paper targets, taking deer and other game and shooting at competitions since about 1975. Other related pursuits include reloading and bullet casting. He currently reloads for over 10 calibers, both handgun and rifle. His reloads, particularly for 9mm, were in great demand during the height of the ammo shortage among family and friends. He donated hundreds of rounds to informal shooting sessions. He was quoted as saying "I do not sell my reloads but I sure will help my guys shoot 'em for free!". He has a few cherished firearms that he has inherited or otherwise procured — those are his favorites.
He earned B.S. and M.S. degrees from Indiana State University in 1974-1975.
He's a firearm experts and is the founder of mhardesty.com.