Are you in search of the best 30mm scope rings for your rifle and scope? Let us help you find a good one!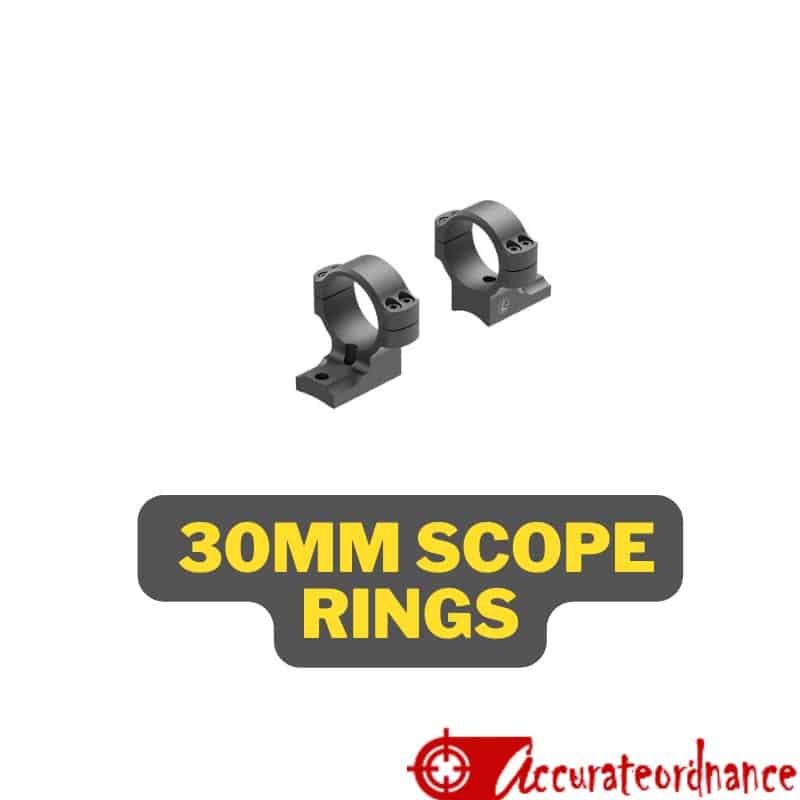 When we talk of the best scope mount sizes for installing a scope firmly to a rifle, there are a few popular scope ring sizes that are frequently used. The 30mm scope rings are the most used rings, and they can be mounted on a Picatinny rail, a Weaver rail, speciality rails, and other platforms. However, choosing the ideal scope rings for various rifles is a difficult undertaking. When purchasing scope rings, you must consider a number of factors.
We have taken care of the most difficult part of your scope ring search by reviewing the top 30mm scope rings. During this scope review, we took into account all the crucial aspects of scope ring selection criteria to help you narrow down your options. You can use some of these factors as a checklist to help you understand what to look for while purchasing your 30mm rings.
Here are our top 30mm scope rings:
Why Should You Use Scope Rings Rather Than A Single-Piece Scope Mount?
The reason shooters use a scope that has two separate 30mm rings is because their rifles lack a continuous rail mount platform. This is common with gun owners that use bolt-action precision rifles.
If your rifle can accept a single-piece scope mount, I would strongly recommend it since it eliminates the need for scope lapping, which would take time and fine adjustment to align, and it saves you money on purchasing a lapping tool for your scope.
Choosing A 30mm Scope Ring
If your scope has a 30mm tube then you will need a perfectly matching scope ring to mount it on your rifle. Scope rings were created for a variety of reasons, including being lightweight, easy to use, and offering an optimal profile. When selecting a scope ring, you should consider some factors that constitute an ideal scope ring.
Please keep in mind that a 30mm scope ring is not the same as a 1-inch scope ring which measures 25.4mm. Before purchasing any of the listed scope rings in this post, make sure that what you have is a 30mm scope tube diameter.
Durability
Scope rings are devices that link a scope to your rifle. As a result, they plainly absorb a lot of shock from the firearm's movement and recoil. Before you get a scope ring for your 30mm scope tube, you must ensure that the ring is strong enough to keep the scope secure and stable no matter what your rifle throws at it. 
As a shooter, I am sure you would not consider a ring made of plastic when you have an alternative made of metal.  Scope rings are different from the scope body and its other components that can be built with materials that are not so tough. 
A scope ring must be stronger than the scope itself because its function is to hold the weight of the scope during a recoil movement by your rifle. Scope rings constructed with metals are better than rings made with polymer.
Adjustability
A good scope ring should have enough room for modifications. If your scope ring is too stiff and not easily adjustable, then you will have a problem aligning your scope and your rifle in the best way possible. The rings should allow you to fine-tune the tightness, position, and other relevant aspects so that you can shoot precisely and comfortably.
Quick Detachment
A scope ring can be fixed or quick detach (QD). However, it is usually preferable to get a quick detach scope ring that can be taken off the platform easily. Furthermore, this kind of ring must be adaptable enough to be interchangeable with various gun platforms.
Profile
A solid scope ring should help in keeping your scope's profile low or modest. Scopes with big objective lenses rise slightly higher, while scopes with medium-sized objective lenses should be a little lower. Before you choose a scope ring, ensure that it matches the size of your scope, otherwise, the scope will not be able to sit properly on the ring and rifle.
Scope Base
When you buy a new scope and get a matching scope mount or scope ring, you cannot just attach these devices directly to your rifle. You will need an extra attachment mechanism or base to connect the scope ring to the rifle platform.
As a result, the rings can be purchased as a single unit with the rings already placed on the scope base or as two separate parts. You should select the rings based on the model of gun you own.
Scope Ring Height
Ring manufacturers use different ring heights when making their scope rings. We have heights like low, medium, and high. There are general rules to this, but you must still check your scope tube diameter to ensure it will fit the scope ring height.  30mm scopes usually use a medium to high heights.
Mounting Design
The Weaver rail and Picatinny rail are commonly seen on assault and hunting rifles. 
If you wish to put your sight on any of these rails, you should purchase rings designed specifically for these rifles.
If you want to install your scope on a law enforcement or military rifle, you must seek a tactical ring. A tactical ring is specifically designed for military settings; thus, these scope rings will fit your military weapons.
Eye Relief
Before purchasing the rings, ensure that they do not restrict the eye relief. Some scope ring configurations may limit adjustment, so be sure it doesn't impede eye relief.
Best 30mm Scope Rings: Review
We combed the web for the most practical and high-quality items based on the attributes indicated above. The scope rings featured here were chosen and sorted based on our experience using some of them and also based on the most favorable user feedback from the guns community. Most importantly, the scope rings discussed here are reasonably priced to meet the budget of most individuals.
1. Vortex Optics Pro Series Rings 30MM 
I like to install my scopes using these Vortex rings. They're reliable, rugged, and extremely durable. Vortex is an industry-leading manufacturer when it comes to a gun accessory. They offer the best quality and durability at the most reasonable price possible, and the warranty they offer shooters is unrivaled.
When they released this Pro Series Ring, I felt I needed to give it a try, and these high 30mm rings have won my heart.
These rings are made with high-quality T6 aluminum, and they are very strong. They have four T-25 Torx screws in each ring used to attach your rail. 
It is easy to put these rings on and they remain on. It doesn't matter what you throw at them; they cannot be twisted or bent and also cannot be easily knocked out of position. It is their duty to hold and maintain zero, and they do just that. Aside from that, they have a weather-resistant anodized finish.
The good part is that the rings are lightweight. Meaning you don't have to worry about adjusting for weight.
The rings have taken a lot of beating. They've been smacked against rocks, dragged through bushes, and dipped in water. The Vortex rings have not moved more than a centimeter. I'm not careful with my devices, yet I couldn't even scratch them.
To match any commonly used 30mm scope, Vortex offers different sizes like high, medium, and low, meaning you can adjust the eye relief for a perfect firearm and scope combination. I recommend that you go a little higher.
It's simpler to lift up your eye when aiming with your scope than rubbing your cheek on your rifle in order to sight through the optic. So, if you choose short rings, you may have to mount or align them further back, reducing your eye relief.
If you want to learn how to mount a scope, check this page out. 
Rings need a bit more precision to attach than single-piece mounts, but they're still simple.
One nice feature of these rings is that the torque parameters are inscribed on the rings. Even if you unscrew them and swap them for another rifle, you can always know how much torque you need to tighten them.
If you want an unrivaled level of performance and longevity, these rings are for you. They come in various heights, and they are ideal for any scope size.
These Vortex rings are great for firearms with heavy recoil since they don't budge. Vortex warranty also covers you no matter what happens to the rings. They will help you fix and repair the device at zero cost.
2. Seekins Precision Scope Rings 30mm Low
The Seekins Precision rings are ideal for anybody seeking an appropriate scope ring for precision shooting. These scope rings are incredibly heavy-duty rings, with a quality that is comparable to the Vortex Matched Precision rings.
The Seekins Precision low rings are simple to install on many 20 MOA rails, including the Remington 700. The four screw covers allow for quick installation while also preventing the rings from moving out of place during powerful recoils.
Surprisingly, these Seekins rings appear very heavy from the outlook, but thanks to the aluminum materials used that made them very light. As a result, you may select them without being concerned about the extra weight! 
It is critical to use the proper torque while trying to tighten the screws; otherwise, the base and bolt may be damaged. To install the ring on the rifle base, use a torque of 50 in/pounds. After mounting the ring on the base, you can use a torque of 20 in/pounds to tighten the ring cap.
You can never go wrong with these Seekins rings; just ensure it is the right size for the tube diameter of your scope, and you're good to go.
3. Vortex Optics Precision Matched Rings
These Vortex Precision rings are ideal for special and long-range 30mm riflescopes. Vortex has made certain that the rings have a modern and sleek appearance that is suitable with the Picatinny and Weaver rails. The rings are sold in pairs to guarantee that they are always perfectly aligned. As a result, you don't have to lap them because lapping might harm your scope.
To maintain precise alignment, Vortex employed a CNC machining method. The rings are CNC machined from billets composed of high-quality aluminum. The four mounting bolts all have a similar hex pattern. When you purchase these rings, you will also receive a hex wrench. The rings also come with a Vortex lifetime warranty.
4. Warne Scope Mount 30mm
The most adored feature of this rifle scope ring is its solid and long-lasting fixed mounting method. If the scope ring is not correctly fixed, it causes problems for rifle users since the scope begins to slip off and loses its adjustment under high recoil.
The fixed rings of the mounting device are built using 4T-15 Torx-type socket cap screws to provide a secure fit around the scope.
Furthermore, both the rear and front rings have a square stainless recoil control key. This recoil key helps to prevent the peening or swaging of the base. The rings are simple to install on Warne bases, Weaver slots, and Mil-Spec Picatinny-type rails and bases.
However, since these 30mm rings come with a low height, you have to ensure that they will fit your scope before ordering.
When it comes to the material used for a scope ring, it could either be constructed of aluminum or steel. In this particular case, steel is used to make the rings. These steel rings are made strong and durable thanks to sintered steel technology.
Since the rings are low, would it be compatible with a scope that has an objective of 33mm? Let us find out! Even though these Warne mounts have low-height rings, you can use them with a scope that has a 33mm objective. According to the brand, the rings are compatible with a scope that have objectives ranging from 24mm to 42mm. Some shooters said they have been able to use 44mm scopes.
The Warne rings are composed of solid steel and extraordinarily durable construction, making them stronger than those made of aluminum. As a result, we believe that they can withstand the recoil of most rifles, including the 50 BMG. 
5. Vortex Optics Tactical Scope Rings 30mm 
The Vortex Optics 30mm rings are an excellent choice for mounting magnifiers, red dot optics, and other optical accessories on a Picatinny rail. These scope rings simply allow the scope and other attachments to mount to the rail thanks to the sturdy 6- screw design.
The rings can be used with standard riflescopes. However, you should lap the rings before using them. This ensures that your scopes are correctly and firmly mounted on the rings.
The center of the sight may be positioned 1.18 inches high from the base. This ring has several height options, including high, medium, low, and absolute co-witness, from which to pick.
The ring size you will choose to mount your scope is mostly determined by the diameter of your scope tube. Generally, the Vortex 6-24x50mm riflescope uses a 30mm tube; therefore, you should be able to use this ring with the Vortex scope.
A proper base is always required to properly attach the rings. Because the scope's tube is 30mm in diameter, the rings will fit. However, your rifle must have a Picatinny rail in order to attach the scope and rings.
6. Leupold 30mm Scope mount
The next rifle scope ring on our list is the Leupold ring. Most rifle bases will accept these 30mm High rings. They give solid support to your scopes and do not add weight to your rifle. These rings are built to be lightweight and very tough.
Using the no-tap approach, steel rings may be fitted to the mount. This makes mounting extremely simple and quick.
When looking for a good scope ring, you want to make sure that they will hold the optic in position while also not adding excessive weight to your rifle. These mounts and rings meet all of the criteria for a good hunting rifle mounting system.
For this ring to match your rifle, you have to take note of two things. Firstly, determine if the scope ring height is appropriate for your optics. Secondly, ensure your rifle has a Picatinny rail on which to place the rings.
Is the back ring taller than the front? In some rifles like the Ruger M77 that are designed for off-set rings to accommodate the scopes, the rear ring must be higher than the ring at the front. As a result, Leupold designed these rings as offset rings so they could be compatible with rifles like the M77. Other models, such as the K77 require rings of the same heights as this one.
7. Weaver Six Hole 30mm Tactical Ring
Your firearm's performance is very important, especially in tactical situations. As a result, it is good to mount a perfectly fitting tactical ring on your rifle that will hold your tactical scope in any situation. The Weaver scope ring excels at this. This tactical ring has six contact points to increase security and withstand the most forceful and rough tactical situations.
Wouldn't it be nice if the zero of your scope stayed true while you used the rifle in real-world action or for hard training? This Weaver tactical ring ensures that your zero remains accurate even under tense situations. The ring is ideal for a 30mm scope tube that has a low height. However, it is also available for in 1-inch scope and two additional heights.
We believe that production expertise can influence product quality of any optical accessory. 
The Weaver's reputation for dependability stems from the over 90 years of manufacturing expertise they have in this business. As a result, the firm builds their rings with the essential elements and backs up their rings with the right quality.
This particular low-height Weaver scope ring cannot be used to mount a scope that has a 50mm objective lens diameter, you'll need a medium-height ring for that. If you do not have an A2 front sight, a medium-height ring will suffice; however, if you have an A2 sight, you need to get a 1-inch ring with a medium height.
Can it be used with the Remington 700 single-piece rail? Since the Weaver ring is durable and strong enough to hold scopes, you can use it for your Rem 700 single-piece rail. However, do not forget to take a height measurement. If this low-height Weaver ring does not fit your scope, try other available rings.
When it comes to maintaining the zero of a scope, your low-height ring cannot have a zero as your medium or high height; as a result, you have to set the zero whenever you change the height of the ring. Every adjustment you make to install the scope impacts the zero, so you must reset it before using it for your hunt or training.
8. Aero Precision Scope Mount
Another great scope mount with a 30mm ring is the Aero Precision mount. It is not only ideal for high-end scopes, but it is also one of the lightest mounts available. The slim design of this Aero Precision mounting device does not determine its strength. In reality, a bulky or large mount does not always imply a strong construction.
The Aero Precision is made of extruded aluminum and has a hard-coat, matte black finish. Furthermore, the edges are softened and flattened, which complements the design. As a result, it's a very light mounting machine.
Eye relief is determined mostly by your specifications when installing it. However, this ring mount is also suitable for a wide range of eye heights and lengths.
If you want a lightweight and durable ring mount, then this Aero Precision mount is an excellent choice. Also, it is a high-quality mounting device that is also reasonably priced for most shooters' budgets.
Whether you enjoy target shooting or hunting on the field, this Aero Precision is a flexible mount that can be used with any 30mm rifle scope tube.
9. Burris Optics XTR Rings
These Burris Optics rings are one of the finest alternatives for long-range shooters who need more vertical adjustment. Despite their tough structure, the rings are nevertheless lightweight. 
They are not constructed with steel. They are manufactured and precision-machined from aircraft-grade aluminum. Shims on the rings are custom-made to compensate for the scope's small misalignment. They also design a unique MOA base for any long-range shooting need. When altering the scope's MOA, shooters do not need to purchase any additional bases.
Shooters who choose the best set combination may create unusual ring, mount, and barrel alignments. When necessary, the settings also allow for windage and height adjustments.  There's no need to be concerned about rings leaving a mark on your scope. This ring is compatible with most Weaver and Picatinny rails.
Burris Optics also offers the 1 inch size for this ring. You can use both the 30mm and 1-inch rings for any of the Burris Optics; Burris Optics XTR III 3.3-18x50mm, Burris Optics XTR II 2-10x42mm, Burris Optics XTR II 3-15x50mm, Burris Optics RT Series Tactical and others. 
FAQ
Does the ring height affect accuracy?
Yes, the height of your scope ring can affect the accuracy of your scope. 
What are the benefits of a 30mm tube?
Most notably, a 30mm tube gives additional elevation and windage stops. Some manufacturers, however, utilize same internal components for 30mm scopes as they do for 1-inch scopes. This size has no significant effect on the optical quality or scope ring performance.
What scope ring sizes are most popular?
The most common tube sizes for rifle scopes are 1 inch, 30mm, and 34mm.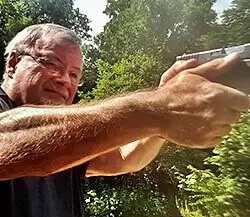 Mike Hardesty is a published freelance gun writer. He also possesses specialized expertise in rifle scopes With dozens of articles and reviews published in Pew Pew Tactical, Snipercountry.com, and TTAG (The Truth About Guns), Mike is considered a firearms expert. His special area of expertise is handguns.
Mike is a long-time shooter. He has been punching paper targets, taking deer and other game and shooting at competitions since about 1975. Other related pursuits include reloading and bullet casting. He currently reloads for over 10 calibers, both handgun and rifle. His reloads, particularly for 9mm, were in great demand during the height of the ammo shortage among family and friends. He donated hundreds of rounds to informal shooting sessions. He was quoted as saying "I do not sell my reloads but I sure will help my guys shoot 'em for free!". He has a few cherished firearms that he has inherited or otherwise procured — those are his favorites.
He earned B.S. and M.S. degrees from Indiana State University in 1974-1975.
He's a firearm experts and is the founder of mhardesty.com.