Choosing the best red dot for a pistol is just like deciding on the best flavor of chocolate. There are several alternatives available, and they mostly look alike, so you need to have a keen sense of taste to differentiate them. The majority of red dot sights perform admirably. Some are outstanding, and others are dud, although it's unusual to come across faulty ones.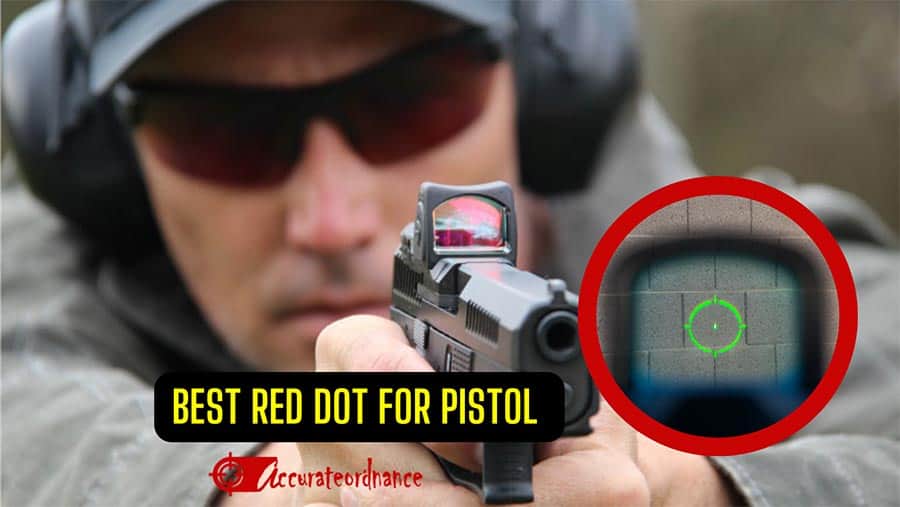 For the sake of this review, I spent several months analyzing and shooting a couple of red dots just to know how they function. To keep things simple, I concentrated on red dot sights for pistols rather than expanding the field to include those designed for rifles and other firearms.
One thing is certain: the finest red dot optics for you are determined by three major considerations. First and foremost, what do you intend to use it for? It's tough to go wrong with optics if you know the purpose for which you are getting it before you make the purchase. 
However, as your requirements get more demanding and specific, the field or number of options narrows down. Micro sights are ideal for shooting in deep concealment, although they're more difficult to operate than other sights with larger panes. 
If your vision must withstand exceptionally hostile circumstances, you may need to use an enclosed emitter unit, which is often larger and more expensive than the open emitters. If you enjoy participating in high-level competitive shooting contests, you will not want to miss or cut corners with the objective lens, sharpness of dot, and other features.
The purpose and features tie into the second consideration, which is budget. You can get a decent sight for under $100, even one to attach on a defensive handgun that you're banking on as a lifesaver. 
However, when you pay more money, you will receive greater features, higher quality, and more complex engineering. Although you may spend less than $400 for a good red dot, some of the best red dots are between $400  -$600.
Finally, we have the X-factor, which is what each individual thinks is cool. When we add anything new to our firearms, we usually want them to look attractive. According to that metric, some of the greatest red dots have a bigger visual appeal than others—and this doesn't necessarily equate to high pricing.
Here are our top picks:
How to Choose a Red Dot Sight for Your Pistol
Generally, red dots function the same way: they have a dotted reticle that is used as the aiming point to help shooters get to the target. The role of red dot in a reflex sight, holographic sight, and prism sight is the same; however, the performance, quality, and price are usually very different.
Here are some things to think about before making your red dot purchase. Some functionalities may be more crucial than others; it all depends on your requirements.
Price/Budget
Red dots are often inexpensive optics, but you may spend a lot of money when you want to get scope from brands like Aimpoint, EOTech, Trijicon,  and others. These companies frequently set the industry standard for quality; therefore, they are more expensive. Law enforcement, competitive shooters, and some citizens interested in home defense might be willing to pay more for a good scope. 
Mid-range priced red dots are frequently a compromise for many scope buyers in the market seeking the greatest pricing and high-end feature. These prices range might be between $200 and $400. 
In this pricing range, everyone can get a red dot that matches their needs, whether law enforcement, hunters, or competitive shooters. The Holosun HS503 red dot sight, which is priced in that range, is a popular alternative.
The quality of a cheap red dot will differ between brands. There are some brands that may boast about the different qualities they offer but fail to deliver on their promise. Red dots that cost less than $100 are often only suitable for plinking, leisure shooting, and practice target shooting.
Dot Size
A Red dot sight with an MOA of 1 or 2 may appear very small and difficult to see in fast-paced circumstances, but they are excellent for accuracy and precision.
Some of the dots we reviewed in this article have a 2.5 MOA; others may have less or more, so you should choose one that can meet your particular need. Dot sizes of 3 – 4 MOA are called all-purpose mid-size dots. The size allows for adaptability in a variety of scenarios, and they are excellent short to medium-range distance red dots.
Dots that are 5 MOA or larger are intended for speed – rapid target acquisition. They are highly visible, easy to recognize, and ready for use immediately after your eyes catch sight of them. Large MOA dots excel at close-range shooting since they hide and cover targets at great distances. Large dots, on the other hand, are preferred for close-range shots with a handgun.
Dot Brightness
The brightness of a red dot impacts more than simply visibility; it also influences how clear and sharp the dot would be. 
A dot should have adequate brightness. When a red dot is dim, it will appear blurry around the edges, making them difficult to discern; meanwhile, red dots that are excessively bright can appear deformed or distorted. Aside from the quality of the reticle, you may adjust brightness automatically or manually.
Automatic brightness adjustment can assist in preserving battery life and be useful for shooters who use the sight in changing lighting situations. A sensor monitors the light condition of the environment and automatically adjusts the brightness of the dot to the best level to ensure that it remains visible.
Meanwhile, manual brightness may be considered a simple function, it is frequently chosen over automatic brightness. You may adjust the brightness yourself to fit your taste for that condition. Everyone cannot perceive brightness and dot color in the same way; as a result, the ability to adjust this feature is a plus. Most red dots usually have 10 – 11 brightness settings.
Night vision settings are usually very dim and undetectable to the human eyes, and you will not be able to see the dots unless it is coupled with a night vision device. In other words, there are some red dots that do not have NVD compatibility.
Weight/Size
Red dot sights for pistols should be small and lightweight because the weapon itself is small. If your pistol is going to be fitted on a holster, then you have no choice but to choose a very small red dot; otherwise, you will not be able to conceal or store the pistol. 
Before now, red dot sights hampered holster use, which sparked a drive to create custom red dot holsters specifically for this reason. They may now be miniaturized without sacrificing window sight view and yet be efficiently holstered.
Many pistol red dot sights are no more than 1.9 inches long and weigh no more than an 1 or 2 ounces. Red dots used for AR-style pistols can be a little over 2 inches long and about 3 to 5 ounces in weight.
Battery Location 
I'm a fan of battery compartments with top-loading, and most red dot makers have realized the value of this feature. What's good? It's simple to replace the battery, and it has no effect on your zero. What's wrong? Most battery compartments have problems with battery fit or battery contact. When taking a shot, the caps and springs might become loose, causing the battery to shift and making the red dot sight fail.
A battery positioned at the bottom of a sight might be inconvenient because you'll have to remove it from your pistol before you can change the battery. However, the good thing about the bottom position is that you are confident that it will not move when taking a shot. When you remove a red dot and change the battery, you are also forced to re-zero the sight. Fortunately, many red dot sights have a long-lasting battery that can be used for years before it would need a replacement.
Life of the Batteries
Battery life varies greatly across manufacturers. Most pistol red dots are so small that they can only accommodate a CR2032 or CR1632 battery. This types of battery also help to reduce the weight because standard batteries take a lot of space and have more weight.
Some red dots have a battery life of about 600+ hours. Meanwhile, there are also batteries with a 30,000 to 50,000 hours life. To obtain more battery life, however, you typically have to maintain the red dot on the lowest brightness level, utilize auto shut-off settings, or be rigorous about shutting it off after usage.
Durability 
When choosing a reflex sight for your pistol, durability is an important consideration. Dependent on your planned usage, this characteristic may be the most important consideration in your decision. If you want to use your optic for on-duty scenarios or self-defense, a highly durable optic should be on top of the list of criteria.
A red dot optic installed on a handgun must be able to resist any form of recoil release by the weapon.
During handgun operation, the optic must endure stresses from two substantial sources. The force created by a slide ride firearm's repeating recoil and the batter by other items that come in contact with the optic.
Internal electrical components or battery connections are a typical site of failure in most pistol optics. The most robust reflex sights now enclose electronics in resin to alleviate recoil impact and other external factors like moisture.
Battery positioning and battery connections are two more design components designed to resist forces caused by recoil. To alleviate stress on battery connections, high-quality optics have changed the battery placement and orientation.
External impact on the chassis of the sight is the second form of force that a pistol-mounted red dot must protect itself against. The chassis of most red dots are intended to channel recoil impact away from internal components and the lens.
The most common red dot failure which is frequently connected to external impact, is lens integrity. Most tiny red dots include an external housing that isolates the body of the lens from the exterior of the sight.
The infiltration of dust and moisture is another external issue that might lead to a decrease in the sight performance. 
Generally, most optics use O-ring seals to prevent moisture from entering the device. Red dot optic manufacturers often waterproof their sights to an Ingress Protection (IP) grade of IPX7 or IPX8.
IPX7: It can be immersed in water that is about 1 meter deep for 30 minutes.
IPX8: It can be immersed in water more than one meter deep. The precise depth is specified by the manufacturer.
Durability and toughness should be important considerations when selecting a red dot for your handgun to safeguard life.
Operations
Operation or control manipulation is also an important consideration when choosing the finest pistol red dot sight to attach to your firearm. Choosing an easy-to-use sight guarantees that your pistol and sight combo is always in good working order.
A shooter must also consider the design elements and features, such as easy access to settings that power the sight on/off and access to reticle brightness adjustment. 
Some manufacturers have included motion-sensing features, allowing users to use the sight continuously without manually powering it off. Other manufacturers have incorporated an automated adjustable reticle brightness function that adjusts the brightness settings according to the lighting conditions.
These design aspects may have an influence on your red dot sight-choosing process. People using a pistol red dot in an on-duty setting will need this feature more than competition shooters or general handgun aficionados.
Reticle Options 
Another important factor to consider while choosing a sight is the reticle. Depending on the context and settings under which you want to use the optic, options like color, clarity, and dot size may impact your selection. Red dots generally have reticle dots ranging in size from 1 MOA to about 16 MOA, and some even have 32 MOA rings.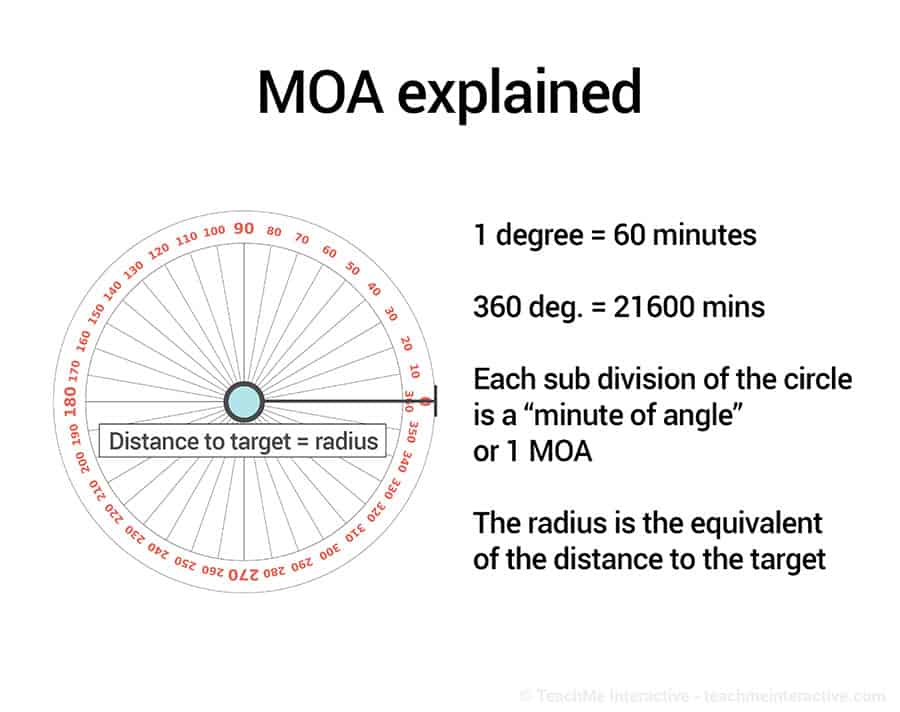 One MOA is one inch at 100 yards or three centimeters at 100 meters. At 100 yards, the size of the dot will seem to be one-inch in diameter.
If you intend to use your optic just for close-quarters combat, a bigger reticle may be preferable to help in the fast acquisition. Others, however, may find it more advantageous to use smaller dots for better precision in engaging targets at a long distance.
Engagement distances will be reasonably predictable when used by a competition shooter or hunter, making a red dot size decision simple.
During reticle color selection, handgun owners often have the option of choosing between gold, red, or green in most cases. If you are color blind or working in an area where one color is easier to perceive than others, then the reticle color you choose may be more important.
A gold color dot may be as visible as it should be to some color-blind shooters. The surroundings and your vision capacity may determine the kind of reticle color that will be more noticeable and desirable for quick, rapid acquisition.
Night vision ability and dot clarity choices are two more considerations.
With improved brightness levels, a good reflex sight produces a clear, sharp dot that will not wash out. A clear, sharp dot simplifies target acquisition for any shooting application.
Some shooters might require a red dot that can be seen with night vision goggles. Pay particular attention to the optics specification since not all sights are compatible with night vision.
Warranty
Even the most durable red dot sight is susceptible to failure. There will always be an unforeseen circumstances that can render a sight unusable. The majority of the best red dot sight makers have outstanding warranties that cover a wide range of circumstances and sight failures. When it comes to choosing the best red dot sight for handguns, ensure you understand the warranty.
Some guarantees cover only physical damage, while others cover only electronic faults for 5 years. There are also manufacturers that provide a lifetime and no-questions-asked guarantee, and they will repair or replace the reflex sight for as long as possible. If you have any doubts or questions about the warranty, contact the manufacturer before purchase.
MOA: What do you need and what is it?
The size of the dot is a frequently debated topic on the internet. MOA is the size of the dot in minutes of angle, which indicates the amount of targets it hides at different distances. Most individuals prefer dots with smaller visual dot sizes.
A tiny dot gives more precise targeting input, allowing for improved accuracy. However, if it is too tiny, the dot becomes difficult to use. Small dots with less than 2 MOA might make a shooter to try to compensate for even the slightest movement. Personally, a 3.5 MOA dot is what I recommend.
However, there is a case to be made for larger dots, such as the triangular reticle in older Deltapoint optics or the rings in Holosun optics. A wider aiming region in MOA will display less wiggling, which means you will likely correct for less movement of the dot. 
Comprehensive List Of Best Red Dot For Pistol Reviews
1. Vortex Venom Red Dot Sight
The first optic we will look at on our list of best pistol red dots is the Vortex Optics Venom sight. 
When it is time to buy an optic, there are typically two options: get a cheap one or go for quality. The Vortex Optics Venom is a unique sight that combines these two benefits in a single compact package. The Venom optic is one of the most affordable red dot you can find on the market. Do you know why? Continue reading to learn more.
To begin with, the glass on the Venom sight is one of the cleanest red dots. The lens of the sight is entirely multicoated, which makes the improvement in clarity of the sight more noticeable. The color fidelity and light transmission are excellent.
The glass lacks the subtly tinted tinge that many other red dot lenses have. Every time I lift my Glock, I receive a clean, sharp sight image thanks to these Venom optics.
This sight uses 3 MOA reticles. I like the reticle size since 3 MOA is large enough to aim your target without being too large.
This is especially critical on a defensive rifle since you must be able to identify what you're shooting at before pulling the trigger!
There are also ten brightness levels to select from, allowing you to tailor the Venom optics to your individual lighting circumstances.
Another great feature of this sight is the automatic-brightness option. When you turn this on, the Vortex Venom will sense the surrounding illumination and automatically change its brightness. 
I love these auto settings because I will not need to adjust the brightness myself. Simply turn the settings on, aim at your target, and fire. 
I wish it had an auto-shutoff feature to save battery life; whatever the case, I'm generally good at turning it off myself, so I hardly ever have battery concerns.
Speaking of batteries, the Venom's reticle is powered by one CR1632 battery. Some red dots need the removal of the whole sight from the base to insert or change old batteries; this Venom sight does not.
It boasts a convenient top-loading battery compartment that makes changing batteries on the go very easy. 
The sight has an unlimited eye box and eye relief.  You will not need to bother yourself about a correct shooting posture or a strong cheek weld as you do with long range sights. 
Check out Best Scope for 6.5 Creedmoor if you want to read about long range optics.
Eye relief is a very significant function in a defensive optic since you never know where you'll end up firing from in emergency situations. Danger will not wait for you to take the appropriate position!
It's true that this Vortex Optics is cheap, but don't be misled into thinking it's poorly constructed.
The optic's frame is built of machined aluminum for enhanced strength. Furthermore, the lenses are O-ring sealed to prevent dust, dirt, or moisture from entering.
No matter what the conditions are, you can be confident that this sight will operate properly. The best part is that it just weighs about 1.5 ounces.
This lightweight is great for shooters, and it also helps in recoil resistance. The Venom's low inertia and minimal moving components keep it running after every shot.
The adjustable knobs make strong clicks, and adjustments are 1 MOA/click. Since you can hear every click and change, it makes zeroing both simple and precise.
2. Leupold DeltaPoint Pro
The next red dot is the Leupold Delta Point Pro. I'll go through its advantages and disadvantages so that you'll be able to determine if this sight is right for your shooting application.
Let's get this party started!
The glass of the Leupold Delta Point Pro is of exceptional quality. The sight has a tiny reddish hue, but you have to look hard to find it. This 2.5 MOA Red Dot is sharp and clear, making it ideal for close-range shots.
The Leupold Delta Point has a larger window some other optics, including Trijicon RMRs. This feature might not seem important to some shooters, but it is critical if you are into competitive shooting.
The DeltaPoint Pro has eight different brightness levels. The maximum setting is ideal for use in bright sunlight, while the lowest lighting level is ideal for low light conditions. It is also compatible with night vision, with the ability to fine-tune the dot to match the sensitivity of your equipment.
One disadvantage: Leupold should rethink the single adjustment button. It is hardly a deal breaker; I'd prefer distinct buttons for increasing and decreasing brightness.
The Leupold DeltaPoint has an easily accessible top battery compartment, eliminating the need to removing the sight when changing the battery.
This single CR2032 is said to last around 300 hours. I had mine for about a year before I changed the batteries.
The dot illumination goes off every 5 minutes of idleness but promptly comes back on when it detects movement, thanks to the Motion Sensor Technolgy by Leupold.
The Leupold DeltaPoint has infinite eye relief. The large field of vision allows you to shoot while your two eyes are open.
This Leupold sight is extremely long-lasting. It's also quite light: weighing below 2 ounces.
The sight is built to withstand adverse weather conditions, and this is a result of the high-quality aluminum housing.
Unlike other sights, the adjusting knobs in DeltaPoint are tactile and audible. Those encouraging clicks are sweet to the ear, especially while using muffs and earplugs inside an indoor range.
It only took me 12 shots to zero it at 25 yards, and it maintained its zero after 600 rounds.
The DeltaPoint optics, like other red dots, has a fixed magnification of 1x. Furthermore, you won't have to bother about parallax because this sight lacks it. Mounting is a piece of cake.
If you have difficulties mounting your sight, check this article on how to mount a scope
I've heard of shooters having trouble attaching the DeltaPoint, but mine fit well with the provided hardware.
Overall, this Leupold sight is one of the best pistol red dot for competitive shooting.
3. Trijicon RMR 
Another best pistol red dot is the Trijicon RMR. Do you want to learn more? Continue reading…
Trijicon RMR has a crystal clear and extremely tough glass. True-color multi-coatings let you view your targets and backgrounds precisely as they appear, with no color distortions. It also extends the life of your battery.
The lighting settings are where this sight shines most. Shooters can choose between an automatic and a manual brightness level. Automated adjustment is the most convenient for home defense use.
This means if you run from a very bright room to a dark room, you will not have to remove your hands from the grip to adjust brightness.
The sight has eight manual brightness settings, two of which are for Night Vision Devices and one for super-bright light. In a very low brightness setting, the dot acts as a laser sight on your target.
The dot comes in three distinct sizes: 1.0 MOA, 3.25 MOA, and 6.5 MOA.
I went with the 3.25 MOA size.
This dot size is tiny enough for an accurate range shooting while simultaneously being large enough for quick acquisition, making it a very adaptable option.
At larger distances, the tiny 1.0 MOA red dot would be more than accurate. It's best suited for long-range handguns, rifles, and carbines.
If you require a scope that can reach 1000 yards or more, see this article on the best scope for 1000 yards.
The largest 6.5 MOA red dot assists the user in easily locating the dot for very close-range engagements. It is also useful for people who have a weak vision.
Eye relief is endless with this red dot. The glass pane is tiny, measuring only 0.87 inches by 0.63 inches, yet it is extremely durable, and the small size gives it an infinite field of vision.
This battle-tested red dot is an epitome of toughness. It is compact and has a good-quality feel.
When combined with a handgun, sights are subjected to a great deal of wear. Because of its military-grade and aircraft-quality aluminum structure, the Trijicon RMR  is built to last.
Both the glass pane and 7075-T6 aluminum body are impact-resistant, allowing them to weather the rigors of warfare for years.
The sight is water-proof and can survive submersion for up to 1 hour. This feature is enough for an average user to tolerate the regular daily rigor.
The battery life of a red dot is very important, and this Trijicon RMR Type 2 delivers without a repeated battery issue. It requires a CR2032 battery, which is simple to obtain and replace.
With a conservative brightness setting (level 4), the battery may endure for 4 years. For higher usage, I'd recommend replacing the battery yearly. My only criticism on the battery is it's location. It is found at the bottom.
This implies that when switching the battery, you must unmount and re-zero. Lighting settings are simple thanks to buttons on the sides. The left side button increases brightness, while the right side button decreases it. Pressing both buttons turns the sight off.
The sight has no magnification, making it ideal for quick target acquisition.
4. Burris FastFire III Reflex Sight 
The Burris Fastfire III is ideal for shooting with any pistol, shotgun, or rifle. It has no effect on the weight of any handgun it is attached to because it is lightweight.
Burris uses high-quality glass to make the sight extremely clear.
As a result, the real red dot is indisputably brilliant. Furthermore, it has a responsive and easy-to-use side button that lets you cycle among the four brightness levels.
The small 3 MOA dot can be used for average-distance shooting and can fit a rimfire rifle.  Meanwhile, the 8 MOA dot, is ideal for use on a pistol or shotgun.
Furthermore, it switches from low to high brightness with a single touch. The battery has an auto-off option at 8 hours, so keep that in mind. You'll notice practically no glare.
Since it has a small size, the Burris Fastfire III provides infinite eye relief. As a result, the eye box will also be big.
If you have impaired vision, it is an excellent sight, especially the 8 MOA version. It's also quite simple to modify owing to the Picatinny mount that it uses.
The steel casing of the Fastfire III is very tough. It is also shockproof and waterproof, making it ideal for all-weather use. Because of this shockproof construction, you can use it on weapons with high recoil.
This makes it an ideal partner for a muzzleloader optic. This sight makes use of top-mounted batteries, which should make battery change easy.
It boasts a 5-year battery life, so there won't be an issue of constantly changing the battery. Furthermore, because the battery is located on the top, there's no need to remove the optic while changing it.
It is quite simple to perform windage and elevation changes without the need of equipment.
When the dials are being adjusted, you will feel and hear the click. You can zero this sight with less than 5 bullets. I was astonished at how precise it was right out of the box.
This Burris Fastfire III sight has a 1x magnification with no parallax. It won't help you to see targets at great distances except you have an excellent eyesight. You'll have to add a magnifier if you want to take long-range shots.
This sight has a Picatinny rail that is low. This allows it to be readily attached to your rifle or scope. It is not the greatest red dot there is, but for its size, it delivers a lot of quality.
5. Aimpoint PRO Reflex Sight
The best AR Pistol red dot sight is made by Aimpoint Pro. It is a convenient red dot that may be used for a range of shooting sports. From target practice to hunting, the efficiency of this sight will astound you.
The clarity of the glass is outstanding, and it is due to the lens's multi-coating. It also has a little blue hue.
The purpose of its multi-coated lenses is to enhance light transmission; meanwhile, the blue tint enhances the visibility of the red dot. This sight also has 10 brightness levels, so you'll never be stranded in the dark. Among the 10 settings, 4 are night vision compatible.
Check out this article on thermal Vs Night Vision scope.
You will also have an infinite amount of eye relief and eye box when using this sight.
This red dot is an excellent optical device, especially in terms of its toughness. It is, in reality, constructed of a durable aluminum alloy.
It can withstand a lot of punishment from any terrain and has a lovely matte black finish. As a result, it is designed to survive for years, exactly like the battery.
Separate elevation and windage caps are installed on the turrets. As a result, you will have a smooth audible click when making adjustments.
Is it, however, capable of holding zero? Yes, and after approximately five shots, I zeroed it in successfully. It also holds zero for years.
It has a 1x magnification. But if you want additional zooming capability, I'd suggest you mount a magnifier with it. The sight is parallax free as well.
Aimpoint Pro is an excellent choice for multipurpose red dot shooting. It is not only suitable for recreational target shooting, but it is also an excellent hunting AR Pistol red dot.
It also comes with a 10-year guarantee from the day of purchase.
Whether you are a devoted hunter or just a target shooter, this sight will serve you well for many years.
6. HOLOSUN Paralow HS503CU Red Dot 
Holosun has collaborated with Primary Arms to create a sight that is effective at long ranges and close ranges.
This sight comes with multi-coated lenses and gives shooters a good sight image.
I had no trouble seeing my target via the lens when I looked through it, and the dot is quite visible.
The reticle of this sight is what distinguishes it from other red dots. The HS503CU was created by Holosun with a 2 MOA ACSS-shaped dot. It's not the round dot you're used to seeing.
What distinguishes the use of this reticle? Many red dots usually appear as a smear on the glass, which is worthless to shooters. This Holosun is one perfect dot I have seen, and the chevron outline is very sharp.
For close range shots, I discovered that I could accurately utilize the entire dot to sight my target. The reticle has BDC, and it can be accurate to about 600 yards. All you just have to do is place a magnifier on the red dot, and you'll be able to aim further. 
I suggest you check out the best 308 scopes if you want to shoot that far.
The dot in this optic is formed by an extremely energy-efficient LED. It is designed to run for 50,000 hours on a single CR2032 battery.
When your gun is moved, the "shake awake" function activates the reticle. As a result, you'll always have a ready-to-use dot.  You don't have to dig around for a power-on button to get your reticle on.
You also do not need to rely on the battery only. This sight has a solar system. The solar panel generates energy to power the LED. No need to worry if the battery dies.
The reticle on this sight is also auto-brightened. When I chose this option, the reticle automatically adjusted to the illumination I was utilizing. 
The Holosun Paralow features limitless eye relief, just like other red dots.
This implies that there is no set distance between myself and the optic in order to receive the best vision via the sight.
The eye box is also quite forgiving, but new red dot users may need some practice to sight without losing the dot. 
I discovered the Holosun Paralow red dot is durable and long-lasting. It features an aluminum casing that is resistant to recoil and shock.
The hard coat anodize coating has held up quite well to abuse.  The housing shrouds the turrets on two sides to increase endurance and protect them.
The turrets are effective and stable. It adjusts in 0.5 MOA increments. I was able to sight in less than 5 rounds. The sight appears to be very close to a true 1x magnification. It does not have parallax issue. When you move your head, the visual picture does not hop about.
Holosun packaged the optic with both low and high mounting bases. It is compatible with weaver rails and Picatinny rails.
7. Sig Sauer Romeo1
The Sig Romeo is designed for semi-automatic handguns, which seems like something you could need.
Unfortunately, it appears that battery life difficulties are the most common cause of complaints among users. You may have trouble with powering it down or up due to a possible compartment and fitment concerns. Battery life appears to be draining faster than expected. 
The sight has a dot of 3 MOA, you can get on target quickly for close-range shooting, but you still have a bit more freedom to shoot further with more precision. When using this top-loading battery, you can quickly switch the batteries without removing the sight.
Some shooters also do this to save battery life during the period of not using the sight.
The Motion Activated Illumination function is designed to keep the reticle ready for use whenever it is needed. It powers down automatically and powers on when it detects movement. You may also alter the brightness of the 5 daytime and 2 night vision brightness levels to suit your needs and comfort.
It is a fantastic target-shooting sight. Although it is a little pricy, but having a durable, tiny, motion-actuated, and multi-use red dot in one design allows users to use it for much more.
8. Primary Arms Classic Red Dot
Primary Arms red dot is a good option that offers a dot of 2 MOA.
This sight has 12 illumination levels (higher than most red dots we've tested). It has forward-angle lenses that produce a sharp dot with no hue or distortion. The sight controls are easily accessible, particularly the height adjustment above the device and the big lighting knob.
The Primary Arms optics are dependable and inexpensive. 
9. Ade Advanced Red dot
Are you looking for a good but reasonably priced red dot around? If this describes you, then Ade Advanced red dot would be a good option.
This sight is new, and we anticipate it will be one of the most popular red dot in the future. It's not junkie, but the price is just what most people can afford to pay.
The sight has received limited input due to its newness, but we can immediately tell it will make a great sight for rimfire pistols.  The metal housing will withstand the punishment that comes with carrying it to the range and being knocked into the doors and corners of your vehicle.
The top-loading battery has a circular lid, and the purchase includes a spare cap.
This 6 MOA red dot has a brightness level that can be adjusted; it is lightweight and simple to operate. It is fog, shock, and waterproof making it suitable for field usage. Overall, it's a good buy for pistols.
10. Trijicon SRO (Specialized Reflex Optic) 
Trijicon SRO 1.0 MOA Sight is ideally suited for use with a pistol. However, I feel the SRO is ideal for gun enthusiasts looking for a sight that is capable of nailing a 50 yards target while also providing speedy target identification. 
The lens on this SRO may be controlled manually or automatically. The SRO optic can survive any form of abuse encountered in every location. It is made of 7075 T-6 aircraft-quality aluminum, same as the RMR, for optimum strength and rigidity.
The SRO sight is waterproof to about 10 feet, so if it drops inside a river and you swiftly retrieve your pistol, the sight will be OK. Infinite eye relief is another notable feature.  It also has a parallax-free vision and quick target acquisition. 
The Trijicon SRO has eight distinct settings, two of which are night vision. The battery can last for about three years before needing to be replaced.
There is hardly any firm that provides a battery that can last up to three years in ideal conditions. This sight is one of the most costly red dots on the list; it is well worth it.
11. Aimpoint ACRO P 1
I added this sight because the Aimpoint ACRO meets all of my boxes and outperforms in terms of dependability and survival.
The fundamental advantage of the enclosed emitter is protection from the elements. There are several ways in which a red dot becomes blocked. The ACRO has a flat window on both sides of the device that may be simply cleaned to make the glass clear.
The ACRO sight also offers waterproof features: it can survive up to 35 meters underwater without any harm. The P 1 also has far better battery life than the others, with up to 5 years of usage on a CR 2032 battery.
This 3.5 MOA red dot is round, and has clean edges, but when the brightness level is maxed out at 10, out of which four work for night vision. The button that adjusts the intensity of the dots provides extremely positive input, allowing them to be operated even with gloves.
Picking up and regaining the dot while firing is a breeze. It is really forgiving.
All of this excellence comes at a price. This ACRO sight is one of the most costly red dots on the market, but it is well worth the price.
Check this article on holographic sight vs red dot
12. Crimson Trace 
The Crimson Trace sight is very affordable. It has a 3 MOA dot, and it is ideal for basic defensive handgun use. It weighs only 0.65 ounces even after you have attached the CR 2032 battery.
The CTS sight doesn't have many bells and whistles, but it performs a good job. The dot automatically adapts to lighting situations for itch-free operation, and the battery can last up to 20,000-hour. 
The notch carved onto the back of the casing allows shooters to readily co-witness with the iron sight on their weapon. 
Because this is a tiny compact dot, it may be more difficult to detect the objective lens, but that is the price to pay for its great degree of concealability.
Because there is no gasket between the device and the mounting surface, you must exercise caution while using it in damp situations so that moisture will not seep in.
It's simple to inspect by simply removing the two bolts that hold it to the handgun. After remounting, just verify the zero. Zeroing is a straightforward and easy operation.
You check this page on how to zero a sight
FAQ
What is the difference between a red dot and an iron sight?
Iron sights are metal-constructed aiming points on a weapon, while red dots are optical sights made of glasses or lenses. Iron sights do not fail like optics that can get broken or damaged, although they are less accurate than red dots.
Can I use a red dot for my rifle?
Yes, the red dot can be used for any type of weapon that shoots low-caliber ammo. 
Is a rear dot sight the same as a rear sight?
No, a rear sight is a metal piece on a gun pierced with a tiny hole for aiming at targets.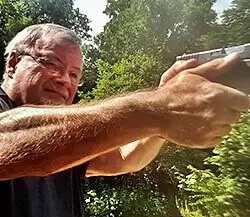 Mike Hardesty is a published freelance gun writer. He also possesses specialized expertise in rifle scopes With dozens of articles and reviews published in Pew Pew Tactical, Snipercountry.com, and TTAG (The Truth About Guns), Mike is considered a firearms expert. His special area of expertise is handguns.
Mike is a long-time shooter. He has been punching paper targets, taking deer and other game and shooting at competitions since about 1975. Other related pursuits include reloading and bullet casting. He currently reloads for over 10 calibers, both handgun and rifle. His reloads, particularly for 9mm, were in great demand during the height of the ammo shortage among family and friends. He donated hundreds of rounds to informal shooting sessions. He was quoted as saying "I do not sell my reloads but I sure will help my guys shoot 'em for free!". He has a few cherished firearms that he has inherited or otherwise procured — those are his favorites.
He earned B.S. and M.S. degrees from Indiana State University in 1974-1975.
He's a firearm experts and is the founder of mhardesty.com.