Just like firearms, rifle scopes can be pretty expensive. Rifle scopes may range from as little as fifty dollars all the way to several thousand dollars. When buying optics for your rifle, you must figure out your budget and find a riflescope that will be the most useful for the activities you are buying them for.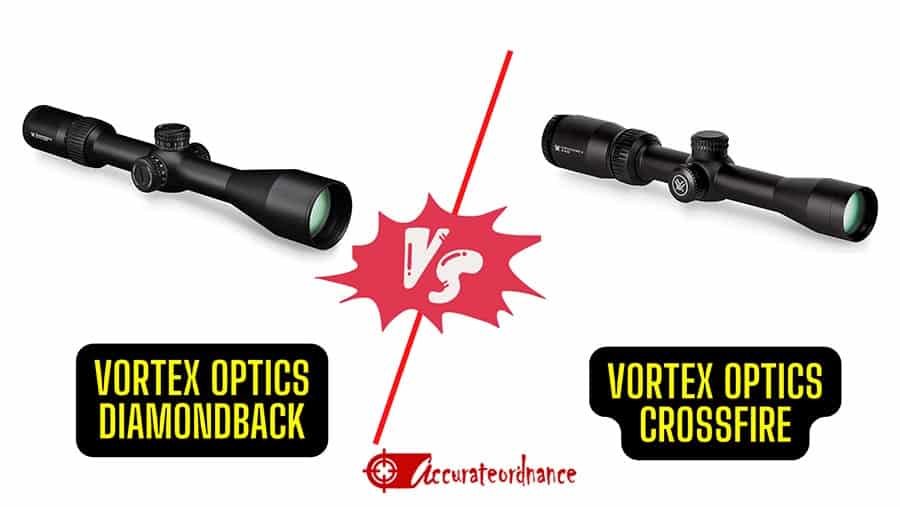 If you'll never be shooting at long distances or close to the end of the day or early in the morning, the $200-400 range scopes will offer you some essential utility and would fill that role perfectly.
However, suppose you need something for long-range, precision target shooting and extremely low light. In that case, you must look for a tougher scope with brighter, sharper images and consistently adjustable turrets.
Of course, there are always exceptions that may be cheap but definitely not in quality since these rifle scopes are affordable and well-built.
Comparing riflescopes is trendy reading these days for two reasons. The first is because it shows all advantages and disadvantages in the shortest possible time, and second, the readers usually appreciate this transparent, head-to-head reviews writing style.
For this overview, we selected two, maybe the most sought hunting optics on the market, a Crossfire II and Diamondback. Both series come from the renowned U.S. Vortex Optics manufacturer based in Barneveld, Wisconsin.
| | | |
| --- | --- | --- |
| | Vortex Crossfire II 4-12×40 AO | Vortex Diamondback 4-12×40 |
| Magnification | 4 – 12 x | 4 – 12 x |
| Objective Lens Diameter | 40 mm | 40 mm |
| Maintube Diameter | 1″ | 1″ |
| Field of View@ 100 yd | 4x: 24.7′ / 12x: 8.4′ | 4x: 32.4′ / 12x: 11.3′ |
| Eye Relief | 3.9 to 4.4 in | 3.1″ to 3.4 in |
| Reticle Type | V-Plex & Dead-Hold BDC Reticle (SFP), illuminated or unilluminated | V-Plex & Dead-Hold BDC Reticle (SFP), unilluminated |
| Turret detail | Low-Profile Capped/Resettable W/E Turrets | Low-Profile Capped/Resettable W/E Turrets |
| Windage Adjustment | 50 MOA | 60 MOA |
| Elevation Adjustment | 50 MOA | 60 MOA |
| Parallax Correction | Yes, 10 yds to Infinity | Fixed, 100 yd |
| Length | 13.1 in | 13.6 in |
| Weight | 17.2 oz | 14.6 oz |
| Price | $189.99 | $230.00 |
With a reputation for providing high-quality riflescopes for hunting, military, and target shooting, Vortex has grown into one of America's top optics brands.
While Vortex top of the line scopes is manufactured in the United States, most of its products are manufactured in China, the Philippines and Japan.
Among many Vortex riflescopes with similar characteristics, we selected two Vortex's more of a budget-oriented scope series, the Crossfire II and Diamondback. Although both scope families look alike, a few key differences set them apart.
Within Vortex's hierarchy of riflescopes, the Diamondback series is one step above the Crossfire II scopes series, but both are manufactured in China.
With 8 models offered in the Diamondback series and more than a dozen scopes in the Crossfire II line, it was easy to find two models with the same configuration. So, to make sure that we compare apples to apples, we choose Vortex Crossfire II 4-12×40 and Vortex Diamondback 4-12×40 scopes.
Vortex Crossfire II
Since the first generation of the Crossfire scopes showed some shortcomings, Vortex reacted immediately and introduced newer generation models known as the Crossfire II series.
Although marketed as a part of Vortex's low-budget series of scopes, Crossfire II is a great offering, particularly if you're looking for quality optics without spending a fortune. Unlike the original Crossfire, the Crossfire II series has many improved features attractive to hunters and shooters alike.
This Vortex's most popular entry-level line offers a combination of features, including an aircraft-grade aluminum body, one-piece tube construction, a wide range of magnification options, and fully multi-coated lenses.
The Crossfire II models come in ample power range options beginning at 1-4x and topping out at 6-24X50 zoom power. That feature makes Crossfire II models ideal for hunters, general shooters, and long-range shooters.
Another selling point is their large number of objective lens diameter options, ranging from 24mm for muzzleloaders and LPVO scopes up to the 56mm models designed for low light conditions.
The Crossfire II family of scopes can be found in a 1-inch or 30-mm tube configuration. All Crossfire II scopes are based on the single-piece tube made from rugged 6061-T6 aluminum alloy.
As standard, the Crossfire II scopes are nitrogen-purged and o ring sealed to provide reliable waterproof and fog proof protection.
Crossfire II 4-12×40 AO Rifle Scope
Although it falls in the middle of the Crossfire pack, the Vortex Crossfire II 4-12x40mm AO is this family's most versatile rifle scope.
Due to the adjustable parallax via Adjustable Objective (AO), versatile range of magnification and the width of the field of view, Vortex Crossfire II 4-12×40 is the most popular of the entire Crossfire II line of scopes.
Along with a large field of view, the Crossfire II 4-12×40 features a whopping 3.9" of solid eye relief, which promotes comfort and easier use for eyeglass wearers.
Like all Crossfire II scopes, the 4-12×40 has fully multi-coated optics with anti-glare and anti-reflective coatings for better light transmission and bright and clear high-contrast views.
Like most other Vortex scopes, this Crossfire II 4-12x 44 is available with two all-around reticles. A simple and traditional duplex reticle called V-Plex, or with our favorite, the Vortex Deadhold BDC reticle. While the Vortex V-plex isn't the best for long-range shooting, the BDC refers to Bullet Drop Compensation and allows shooting at longer ranges.
The scope is equipped with a non-illuminated Dead-hold BDS reticle placed in the second focal plane. The reticle is based on the MOA scale with ¼ adjustment graduation.
The Vortex Optics Crossfire II 4-12x Adjustable Objective rifle scope features capped recessed turrets to improve the mobility of the scope.
This affordable and beginner-friendly scope is built around a 1-inch main tube made of durable aluminum alloy that can withstand even the most extreme weather conditions and outdoor use.
Vortex Diamondback
A more expensive than Crossfire and with some improved features, the Vortex Diamondback is one level up from the Crossfire II series.
Vortex marketed this series towards hunting applications such as driven hunting, stalking and mountain hunting and general shooting.
Like the Crossfire II, the Diamondback scope series comes with the same Deadhold BDC and their V-Plex reticles. While Crossfire II models have illuminated and unilluminated reticle options, the Diamondback lineup only features unilluminated second focal plane reticles.
There is also one subcategory of the Vortex Diamondback called Vortex Diamondback Tactical. It is a line with a reticle placed on the first focal plane and designed to meet the needs of tactical professionals.
The Vortex Diamondback riflescope series offers a broad zoom range that starts at 1.75-5x and tops out at 4-12x, making it perfect for mid-to-long-range use.
Speaking of housing and objective bells, all the Diamondback models are based on a 1-inch tube with an objective lens starting at 32mm and topping out with a 50mm model.
Vortex Diamondback 4-12×40 Rifle Scope
Though both series feature 3 times zoom factor, a slightly better optical system of Diamondback 4-12x provides a greater field of view than Crossfire II 4-12x models.
The Diamondback's somewhat better quality of the Diamondback compared to the glass on the Crossfire II 4-12x model makes the Diamondback perfectly suited for medium-range shots in various hunting scenarios.
The Diamondback 4-12×40 boasts a fully multi-coated lens treated with Vortex's Multi-layer XR coatings to deliver edge-to-edge clarity and provide slightly better image quality than the Crossfire II 4-12×44 scope.
While the Crossfire II 4-12×40 AO rifle scope has better parallax control due to the adjustable objective, which provides image focus and parallax removal, the Diamondback 4-12×40 scope sports a fixed parallax setting at standard 100 yards.
Vortex Diamondback 4-12×40 boasts a BDC (bullet drop compensation) reticle to help with ballistic correction and takeout the guesswork of estimating bullet holdover.
Compared to the Crossfire II 4-12x scope, the main downsides of the Diamondback 4-12×40 scope are less forgiving eye relief and a tiny eye box, particularly at max magnification.
The Diamondback scope is equipped with low-profile, capped turrets for more protection. The zero-reset turrets have a strong, audible "click" when turned, allowing windage and elevation adjustments at 1/4 MOA per click.
The Diamondback model has a better eyepiece focus mechanism than the Crossfire II scope, which is excellent for quick and easy reticle focusing and for people with different diopters.
As you would expect from the scope made for hunters, the Vortex Diamondback 4-12x features good build quality, with the entire body machined out of a one-piece certified 6061-T6 aluminum.
The 1-inch main tube is hard anodized, then sealed with O-rings and purged with argon gas to ensure a fog-free view and water resistance in all weather conditions.
Final Thought
Although the Diamondback 4-12×40 is more portable and handier than the heavier and longer Crossfire scope, both Vortexes are viewable options for your heavy-duty rifles, muzzleloader or slug shotgun.
Ultimately, it's good to know that a lifetime professional warranty covers these two Vortex models.
In conclusion, the Vortex Crossfire II and Diamondback scopes are part of Vortex's more budget-friendly series of scopes. Still, the Crossfire II models offer better scope value for the money compared to the Diamondback series.
FAQs
What are the key differences between Vortex Diamondback and Crossfire?
There are so many key differences between the Vortex Diamondback and Crossfire riflescope series, and they include: build quality and reticle options. The Diamondback series generally offers better performance compared to the Crossfire series. The Diamondback scopes feature fully multi-coated lenses with Vortex's Multi-layer XR coatings, improving edge-to-edge clarity and image quality. While both series feature durable construction, the Diamondback scopes are built with a one-piece certified 6061-T6 aluminum body, which provides enhanced ruggedness and durability.
The Crossfire series also offers a wider range of reticle options compared to the Diamondback series, including the Deadhold BDC reticle for bullet drop compensation and the V-Plex reticle for general shooting applications. In addition, the Crossfire has both illuminated and nonilluminated versions.
Which riflescope offers better optical performance, Vortex Diamondback or Crossfire?
Both the Vortex Diamondback and Crossfire riflescope series offers good optical performance, but the Diamondback generally has better image quality and clarity compared to the Crossfire. The Diamondback series is designed with higher-quality glass and coatings, which result in sharper and more vibrant images. This means you can see your target more clearly and in greater detail, especially in challenging lighting conditions.
On the other hand, the Crossfire series provides reliable optical performance at a more affordable price point. While it may not match the Diamondback's level of image quality, it still offers decent clarity and brightness for most shooting applications. If you prioritize exceptional image quality and are willing to invest a bit more, the Vortex Diamondback would be the better choice for you. However, if you have budget constraints and are satisfied with good optical performance without the need for top-tier image quality, the Vortex Crossfire will still serve you well.
Can the Vortex Diamondback and Crossfire withstand harsh weather conditions?
Yes, both the Vortex Diamondback and Crossfire riflescope series are designed to withstand harsh weather conditions. They are built with durable materials and have features that provide protection against moisture, fog, and other environmental factors. The scopes are sealed with O-rings to prevent water and dust from entering the internal components. They are also nitrogen-purged, which means the scopes are filled with dry nitrogen gas to eliminate internal moisture and prevent fogging. This ensures that the lenses remain clear and usable even in humid or wet conditions.
The scopes have rugged construction and are made from high-quality materials such as aluminum alloys. This makes them resistant to impact and able to withstand rough handling or accidental drops. However, it is important to note that while the Diamondback and Crossfire scopes are designed to be weather-resistant, they are not completely waterproof or indestructible. It is still recommended to take proper care of your scope and avoid exposing it to extreme conditions whenever possible.
What reticle options are available for the Vortex Diamondback and Crossfire?
Vortex Diamondback series offers two reticle options: EBR-2C (MOA) and EBR-2C (MRAD) Tactical Reticle: The EBR-2C (MOA) Tactical Reticle reticle is designed for tactical applications and features MOA (Minute of Angle) markings. It helps with precise shot placement and holdovers at different distances. While the EBR-2C (MRAD) Tactical Reticle similar to the MOA version, this reticle is also intended for tactical use but utilizes MRAD (Milliradian) markings. It allows for accurate ranging and holdovers using the MRAD system.
On the other hand, the Vortex Crossfire series provides two reticle options: Dead-Hold BDC MOA Reticle, which is specifically designed for hunting and shooting at various distances. It features bullet drop compensation (BDC) hash marks. And V-Plex Reticle, which is a classic and straightforward crosshair design. It's versatile and suitable for a wide range of shooting applications.
When choosing between the Diamondback and Crossfire series, consider the type of shooting you plan to do. If you require tactical features and prefer either MOA or MRAD measurements, the Diamondback with EBR-2C reticles is a good option. If you prefer a reticle specifically designed for hunting with bullet drop compensation, the Crossfire's Dead-Hold BDC MOA reticle is a suitable choice.
How do I mount the Vortex Diamondback or Crossfire on my firearm?
To mount the Vortex Diamondback or Crossfire riflescope on your firearm, you will need compatible scope rings or mounts that match the tube diameter of the scope. Both the Diamondback and Crossfire series are available in either a 1-inch or 30mm main tube diameter configuration, so ensure that you choose rings or mounts that match the specific tube diameter of your scope.
Here's a general guide to mounting the riflescope:
Align the riflescope's mounting rail or base with the mounting slots on your firearm's receiver or rail. Place the scope rings or mounts over the riflescope's maintube and position them evenly. Tighten the screws on the rings or mounts gradually and evenly, alternating between screws to maintain balance and prevent over-tightening. Ensure that the riflescope is securely mounted and properly aligned with your firearm's bore. Check the eye relief and reticle focus, making any necessary adjustments to achieve a comfortable and clear sight picture.
Is the Vortex Diamondback worth the higher price compared to Crossfire?
Yes, it is worth the higher price. However, the decision of whether the Vortex Diamondback is worth the higher price compared to the Crossfire depends on your specific preferences. The Diamondback series generally offers better build quality, which may justify the higher price for some users. The Crossfire series still provides reliable performance at a more affordable price point, making it a popular choice for budget-conscious shooters. If you have specific budget constraints or if the optical performance differences are not critical for your shooting needs, the Crossfire series can still deliver satisfactory performance.
Are there any known issues or drawbacks with the Vortex Diamondback or Crossfire?
The Vortex Diamondback and Crossfire riflescope series are generally well-regarded for their quality and performance. However, it's important to note that individual experiences may vary, and there have been some reported issues or drawbacks associated with these scopes. One common concern raised by users is the eye relief, particularly at higher magnifications, which may be less forgiving in some models. It's advisable to check the eye relief and find a comfortable position before making a purchase.
Occasional reports of reticle misalignment or turret tracking issues have been mentioned, although these instances appear to be relatively rare. It's essential to perform proper mounting, zeroing, and regular maintenance to minimize potential issues.
How satisfied are users with the Vortex Diamondback's overall performance?
User satisfaction with the Vortex Diamondback riflescope series is generally high. The Diamondback scopes are well-regarded for their optical performance, durability, and overall value for the price. Many users appreciate the improved image quality, edge-to-edge clarity, and the reticle offered by the Diamondback series. However, individual experiences may vary, and it's important to consider that personal preferences and expectations can influence satisfaction levels.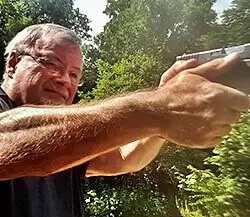 Mike Hardesty is a published freelance gun writer. With dozens of articles and reviews published in Pew Pew Tactical, Snipercountry.com, and TTAG (The Truth About Guns), Mike is considered a firearms expert. His special area of expertise is handguns.
Mike is a long-time shooter. He has been punching paper targets, taking deer and other game and shooting at competitions since about 1975. Other related pursuits include reloading and bullet casting. He currently reloads for over 10 calibers, both handgun and rifle. His reloads, particularly for 9mm, were in great demand during the height of the ammo shortage among family and friends. He donated hundreds of rounds to informal shooting sessions. He was quoted as saying "I do not sell my reloads but I sure will help my guys shoot 'em for free!". He has a few cherished firearms that he has inherited or otherwise procured — those are his favorites.
He earned B.S. and M.S. degrees from Indiana State University in 1974-1975.
He's a firearm experts and is the founder of mhardesty.com.